Water Damage Restoration near Southern Oregon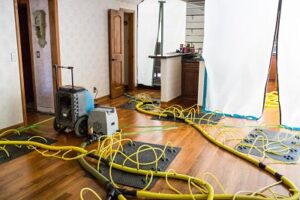 Whether it's from a sudden storm, a broken pipe, or even a backed-up toilet, water damage restoration can be needed at anytime. But no matter what just happened, you'll need to address it right away before it leads to structural damage or mold. And for that, you know you can only rely on the best and most efficient pros in your area.
When you have a leak or flood in your home or business, count on 911 Restoration of South Oregon for the best damage restoration around. With our phone lines open 24/7/365, we'll send a team of professionals to your front door within 45 minutes of your call. Emergencies can happen anywhere at any time, so we're always on-hand whenever you need us.
Each member of our licensed and bonded staff is IICRC-certified, ensuring that they have high-quality training and years of hands-on experience. Furthermore, we equip them with only the best tools and materials available to get your property to better-than-new condition. No matter how it started or how bad it is, our team is fully prepared to tackle it head-on with the utmost professionalism and sensitivity.
Call 911 Restoration today and learn how we can give all Southern Oregon properties a truly Fresh Start.
Quality Restoration Services for All of Southern Oregon
Believe it or not, a small leak or overflowing sink can do a lot more damage than you might expect. Over time, that little bit of loose water will weaken your building's structure and can be made worse by mold outbreaks. With so much at stake, it's extremely important to call on 911 Restoration of Southern Oregon as soon as you find water damage so we can fix it immediately.
Upon their arrival, our experts will perform a thorough ( and completely free) visual inspection of your property. They then move quickly 
to extract all of the loose water and get the entire area dry, with help from our numerous high-powered blow fans. Afterwards, they make sure that everything stays protected by boarding up windows, and roofs to keep out the elements and packing up any at-risk items that they find.
Once they're sure that everything is set and safe, our experts focus on general structural repairs. They repair cracks, leaks, and broken pipes, and check your roof and ceiling for any. We'll also replace your drywall, flooring, and insulation as needed.
Throughout their pain-staking process, our pros consistently check your property for signs of mold and remove any outbreaks that they find. They'll even take the extra step of sanitizing the space and removing any lingering odors. By the time everything is finally finished, you'll start to think that nothing even happened in the first place.
No matter how it started, we'll provide top-tier water damage mitigation for Medford, Klamath Falls, Grants Pass, and the rest of Southern Oregon. Call damage control 911 today to learn all about how we can help.
A restaurant floor covered with protective plastic sheets. A water vacuum, blow fan, and two plastic bins are nearby.
We Go Beyond Just Restoring Your Home or Business
Here at 911 Restoration of South Oregon, we're not satisfied with just repairing your property. After we're done with all the hard work, we'll gladly give you some helpful tips for preventing any future disasters.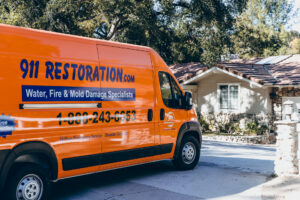 Some of our best bits of advice can include:
Regularly trimming all nearby branches

Thoroughly inspecting your roof

Cleaning out gutters to prevent clogs

Checking pipes for signs of wear or rust

Properly insulating exposed pipes

Checking for leaks and mold growth
And if you need some extra help preventing future damage, we are also on-hand to do preventative maintenance if need be. After all, we haven't done our job right if we don't make sure that everything stays in top shape. And with our phone lines open all day every day, our office staff is always.
Furthermore, we can provide you with a free insurance consultation to go over what's covered and. We'll even guide you through all of the complicated paperwork and bill your company ourselves so you can focus on getting your home or business back in order. Having any kind of property damage is already stressful enough, so we're happy to lighten the load however we can.
Whether you own property in Medford, Grants Pass, or anywhere else in Southern Oregon, 911 Restoration will always be there for immediate water damage restoration. Call 911 Restoration inc today for our high-quality services.