Water Damage in Southern Oregon
911 Restoration in Southern Oregon
Whether you own commercial or residential property, you can always count on 911 Restoration of Southern Oregon for full-service restoration. With our phone lines open 24/7/365, we'll send a team of experts right to your front door within 45 minutes of your call.
Because our licensed and bonded business is locally owned and operated, our clients are basically our neighbors. And all of our technicians are IICRC-certified, ensuring the highest-quality training and experience possible. Furthermore, they're provided with all of the best equipment and materials available to bring your property to better-than-new condition.
Once we arrive, we start off with a free visual inspection (for property owners only) and give you a complete rundown of what we find and how we'll fix it. We'll repair your home or business as fast and efficiently as possible, and can provide you with expert advice to help prevent future disasters. From beginning to end, and even after we've finished, we'll do everything we can to help put your mind at ease.
At 911 Restoration of Southern Oregon, we offer a Fresh Start with our comprehensive selection of property damage restoration services, including but not limited to:
Whether you're a Southern Oregon homeowner or business owner, 911 Restoration of Southern Oregon is your Fresh Start! We'll communicate with you throughout the entire process, help answer questions related to insurance, and restore your property to its pre-damaged condition. One of our IICRC-certified teams is dispatched within 45 minutes of your call! Contact us today, and one of our friendly representatives will assist you in finding the nearest Southern Oregon location.
Water Damage Restoration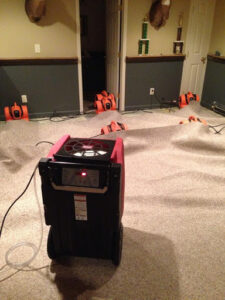 Whether it's from a leaking roof, a burst pipe, or even a broken dishwasher, water damage can ruin your building's structure and breed harmful mold. Even if things seem minor at the time, leaving it a lot could spell disaster later. So when it happens on your property, take care of it right away by contacting our team at 911 Restoration of Southern Oregon as soon as you spot it. 
Once we arrive, we quickly extract all loose water from your property and dry the affected area with our high-powered blow fans. We then pack up and store all at-risk items to keep them safe while we do everything from fixing leaks and cracks to replacing your drywall, flooring, and insulation. Throughout this process, we consistently check your property for mold growth and address any outbreaks that we find right away.
Don't rely on just any company. Count on us for the best water damage restoration in Medford and all of Southern Oregon.
Sanitization and Disinfection Services
The coronavirus pandemic has affected everyone in many different ways, and will continue to do so for years to come. Despite everything that's happened, your home should still feel like a sanctuary for you and your family. And if you own commercial property, you'll need to do everything you can to protect employees and customers alike.
Fortunately, we at 911 Restoration of Southern Oregon can offer sanitization services to all residential and commercial properties in the area. Our experts are trained to follow strict EPA and CDC guidelines, and take every precaution possible while deep-cleaning your home or business. And if you need our services for other reasons, such as a new baby or the start of the school year, we'll be there to help.
No matter where you are in Southern Oregon, you can count on us for a clean home and peace-of-mind. 
Mold Removal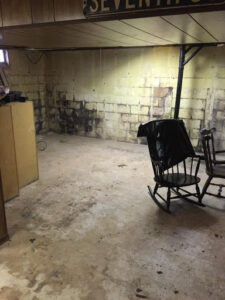 Mold grows rapidly in dark, damp areas of your home or business, meaning you could have a full-blown outbreak before you even find it. Sometimes water damage happens without you knowing, or the previous owners never addressed it, leaving you with a health and safety-risk that you weren't prepared for.
As soon as you find an outbreak on your property, call 911 Restoration of Southern Oregon right away. We provide a free visual inspection and follow all safety protocols needed to remove mold and keep it from spreading around your home or business. We'll repair all water damage, replace building materials, and can even arrange third-party laboratory testing to put all of your concerns to rest.
Water damage restoration companies provide many other services besides just water damage Medford.
Sewage Backup Cleanup
Medford Water and Sewer backup isn't just gross, it's also a health hazard for you and everyone else on your property. It damages your building's structure, brings in disease-causing parasites, and the resulting water damage can even cause mold outbreaks. And when it happens, you'll need a solid team of professionals to get everything completely clean and safe again.
911 Restoration of Southern Oregon will completely remove all of the raw sewage on your property before drying and disinfecting everything. Once we inspect your system, and find the cause of your problem, we repair it completely and make sure everything runs smoothly. We also check thoroughly for structural damage and make all of the repairs needed to give you a truly Fresh Start.
And our experts won't just repair your system after a backup, they can also provide you with preventative maintenance to keep it working properly for years to come. Whether it's trimming tree roots in your yard or installing new parts in your sewage line, we'll make sure you never have to deal with another nasty surprise ever again.
Fire and Smoke Damage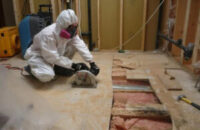 When wildfire season starts or an accident destroys your property, we'll be on hand to provide you with complete fire restoration, Medford. Because even a small kitchen fire can result in extensive repairs, and you'll need the best experts around to help make things right again.
We'll send a team of our technicians within 45 minutes of your call to give your property a full-service restoration from top to bottom. Our technicians use soda blasting to get rid of smoke, ash, and soot, and can also offer puffback cleanup for your chimney. furnace, or fireplace. From there, our services include flooring and drywall replacement, water damage repairs, and even restoration on any salvageable items that we find.
While we can't control what happens, or put out the fires, 911 Restoration of Southern Oregon will always give your property the Fresh Start it needs.
Disaster Restoration
Just like everywhere else in the country, Southern Oregon has its own fair share of climate-related disasters. And if you're a property owner, it seems like you can never be fully prepared for when they strike. 
Fortunately, we at 911 Restoration are here to help you rebuild after any natural or manmade disaster. Whether you've just experienced a flood, a fire, or a sudden earthquake, we put our wide range of services to the ultimate use to get you back on track as soon as possible. Our experts perform everything from cleanup and emergency boarding to roof and window replacements, along with many other high-quality services.
Furthermore, we take extra steps to really make sure that you're truly taken care of. Whether it's addressing your questions and concerns or guiding you through the complicated insurance process, you'll be treated with the utmost compassion and sensitivity.
Commercial Water Damage Restoration
As a locally owned and operated business, we understand the importance of protecting and maintaining your commercial property. So when it gets damaged or destroyed, your way of life can get turned upside-down in more ways than one.
At 911 Restoration of Southern Oregon, we treat your property as if it were our own. Whether you've got a pipe burst, a leaky ceiling, or a mold outbreak, we'll be there immediately to address it. From the initial inspection and repairs to our free insurance consultation, we're here to help all businesses in Medford, Klamath Falls, Grants Pass, and all surrounding areas. 
No matter how bad things get, you can always trust your commercial restoration services at 911 Restoration of Southern Oregon.