Emergency Fire Damage Restoration Medford Has Near You
Emergency Fire Damage Restoration Medford Near You
Searching for the most reliable fire damage restoration Medford has near you shouldn't have to cause you to be hot headed.
At 911 Restoration of Southern Oregon, it's our job to deliver you a seamless and worry-free experience. Because dealing with a mess from a fire you never asked for is already painful enough.
Free fire damage assessment

Cleaning dishes, surfaces, and furniture

Smoke removal, soot removal, and ash removal

Direct insurance billing with inventory listing and loss itemization

Reconstruction and renovation – we will make your home better than new
We serve the local communities of Medford, Klamath Falls, Grants Pass, and all surrounding areas with a Fresh Start.
Being a complete disaster restoration services provider – we tackle more than fire damage restoration near Medford alone. From water damage Medford, mold removal Medford Oregon, to commercial restoration near Medford – we'll put any disaster to rest.
Leave your fire and smoke damage problems behind as a thing of the past.
Now is the time to move forward towards a Fresh Start you never knew was possible.
Our dedicated and friendly team of experts in fire restoration near Medford can't wait to bring you a new beginning.
Call 911 Restoration today for the best fire restoration contractors near you.
A Team on Standby 24/7 With Smoke Damage Restoration Near Klamath Falls
We know the importance of time when a disaster strikes Medford and surrounding area property owners. That's why our dedicated standby team has your back 24/7 any time of the year.
The last thing we'd want for you is to continue to live your life in a property prolonged by disaster problems.
Regardless of the disaster you face, we also specialize in smoke damage restoration near you to take out those stubborn stains.
Black sludge and melted items

Cracked property structures

Dusty ashe, soot, and debris

Stained and discolored walls

Strong odors harmful to the lungs
Our team of experts certified in fire restoration near you are trained to the industry's highest standards and practices.
How can you trust the quality work we provide?
Each and every one of our fire technicians are registered through the Institute of Inspection Cleaning and Restoration Certification organization.
They undergo continuous learning to stay relevant in the industry

We're insured for your protection incase anything falls through

You get the trust you deserve the moment you begin working with us

We use the latest and most advanced technology to get the job done right the first time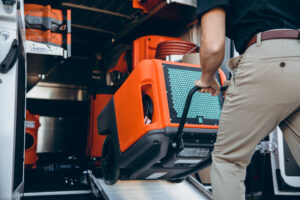 Before you know it, you'll soon resume your life in a fresh property with our Fresh Start stamp of approval.
Work with our fire restoration contractors near Medford, Klamath Falls, and Grants Pass to tackle your smoke damage restoration needs.
The Only Fire Damage Restoration Medford Has With a Fresh Start
There's no other fire restoration company near Medford that says they can offer a Fresh Start. It's what makes our services unique with the belief that a new beginning is always possible.
You'll see the moment you begin interacting with any of our staff members at 911 Restoration of Southern Oregon. The charismatic empathy, compassion, and ability to inspire you to new heights are why our customers love us.
What else is a part of our Fresh Start promise?
Timely and responsive service with a 45-minute response time or less

Reliable and dependable service any time of the year with a 24/7 standby team

We work with all insurance companies making your experience worry-free

A caring team that puts you, your goals, and property first the whole way through

The nationwide resources and extensive network to ensure your property's success
Who knew a Fresh Start with the best fire damage restoration Medford has near you was this easy to achieve?
Now is the time to put your need for fire restoration and smoke damage restoration near Medford to an end.
Don't know where to start?
Contact our friendly customer service team by giving 911 Restoration of Southern Oregon a call and they'll begin the process. We'll send over our IICRC-certified fire restoration experts to perform a free inspection.
Discover a new beginning today!