ABOUT US
Proud Southern Oregon Native
911 Restoration of Southern Oregon is locally owned and operated by Travis DeVry and Josh Nugent. Travis was born and raised in Southern Oregon. He grew up in Klamath Falls and has lived in Eagle Point for the last four years. 
Travis first became aware of 911 Restoration from their distinctive vans — he liked their look. He also appreciated this nationwide restoration leader's excellent reputation for quality and service. As the owner of a successful construction business, Travis knows the value of a strong foundation. When Travis was ready to leave his construction business of twenty years and Josh wanted a career change from being a state trooper, they didn't want to start a new business from scratch. 
Sometimes, life forces you to start from scratch, like when your property is flooded, full of mold, or damaged by fire. That's when Southern Oregon property owners call Travis, Josh, and their team of certified, licensed, and insured restoration experts. 911 Restoration of Southern Oregon protects and repairs homes and businesses from all kinds of damage and disaster. 
Travis makes sure that each team member is properly dressed and equipped for each service call. That's important, not only for making sure that the job is done correctly but because 911 Restoration of Southern Oregon arrives within 45 minutes of an emergency call. From hazmat suits to industrial dryers and blowers, this crew of restoration specialists is ready to deliver on its Fresh Start promise. 
The Fresh Start that property owners deserve after water, mold, or fire damage.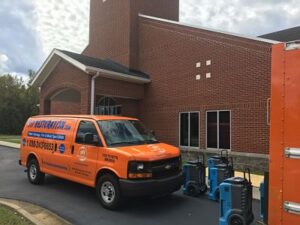 Travis knew that he didn't want to be in the construction industry forever but he liked the challenge of restoring damaged property. His experience as a contractor and subcontractor is invaluable when discussing property renovation or repair. Travis and his staff clean, repair, and renovate a customer's property as if it were their own. There is genuine teamwork and in Travis's words: "There's never an agenda, they're just decent, honest people."
Travis and Josh are co-owners and friends who got to know each other first outside of business. Travis and his wife are the proud parents of four children ranging in age from five to 25. They also have two dogs. 
Travis, Josh, and their families met through baseball, since their kids play in the same league. This commitment to families extends to their customers, and more property owners in South Oregon rely on Travis and his team for emergency repairs, remediation, and restoration. Travis says that a majority of his work is from referrals, so customer satisfaction is always a top priority. 
Safety is also a priority. Property owners who find gushing sewage in their basement or mold growing under a sink should leave these biohazards to the professionals at 911 Restoration of Southern Oregon. 
Travis recommends that property owners take the following steps when they see water damage:
If possible, locate the main water cut-off for their property and turn off the flow into the house. 

Call 911 Restoration of Southern Oregon, available 24/7/365. Crews arrive within 45 minutes.

Stay away from the affected area. 

Get medical treatment if anyone is injured.
Mold is a biohazard and must be treated properly or it will return. Travis and his crew are IICRC certified and use professional third-party testing to evaluate the mold and find the best way to eradicate it. 
Fire and smoke damage also requires swift, expert attention. Soot and ash are unhygienic and leave unpleasant odors with a greasy residue. 911 Restoration of Southern Oregon blasts away fire damage and removes smoke odors permanently. 
Your local one-stop property repair and restoration solution.
Travis knows that it is difficult for property owners to see their property affected by water, mold, or fire damage. His water damage and mold removal specialists see this damage too, but they also see an opportunity to restore the property to even better condition than it was. Customers don't have to worry about filing an insurance claim: 911 Restoration of Southern Oregon works with all insurance companies and bills them directly. 
Life can hand out tough breaks. Just ask Travis, who broke both of his legs as a motocross racer. Today, Travis and his well-trained techs race against the clock as they respond to customers with same-day service that is customized to the situation at hand, including:
Water extraction

Drying and dehumidifying

Certified mold remediation and repair

Emergency roof, plumbing, and storm repairs

Emergency packing and storage

Leak detection and repair

Complete commercial restoration

Complete residential restoration 
Travis and his associates are with customers throughout their repair and restoration process. The process begins with a free visual property inspection (for property owners only) and is completed when customers are fully satisfied with their beautifully restored home or business. 
Travis has always been customer-oriented. He doesn't need to advertise, because many current customers are happy to refer their friends and associates. 911 Restoration of Southern Oregon is ready to help with any type of property crisis with responsive customer care.