Benefits of Emergency Board Up Services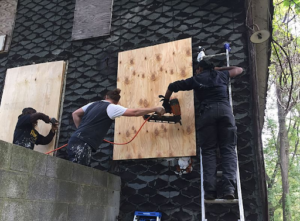 Emergency board-up services are a critical part of the home and commercial restoration, as it helps keep animals, vagrants, and the environment out of your property after a disaster. They aren't limited to use after fire and smoke damage, though, but during other forms of disaster restoration as well. 
This article analyzes the benefits of emergency board-up services for residential and commercial properties to help you understand what you can expect when getting boarded up. 
Benefits of Emergency Board Up Services
Many people disregard emergency board-up services as they don't know much about it or think it is an unjustifiable expense. 
You may not need board up in case of a small fire or minimal water damage. However, in cases where your windows aren't able to keep your property secure, or you need to leave your property for any reason (after a disaster), emergency board-up services can be crucial for ensuring property safety.
Businesses or homes affected by storms, extensive water damage, vehicle accident, or even a severe case of mold can benefit from the emergency board-up services. Before we get into the specifics, we would like to clarify one crucial aspect of the board-up services.
You do not need to OWN plywood panels when boarding up your home. While this is an option, board-up service providers usually have the wood panels that they 'rent' out to you. The rent is usually minimal and well worth the investment. 
Now, let's take a closer look at the benefits of emergency board-up services.
Boarding Up for Weather Disaster Restoration
Natural disasters don't have a time frame. It's nature, and you must therefore be ready for anything. If you suffer damage from weather conditions such as hurricanes, tornadoes, thunderstorms, floods, winter storms, or all of the above, you may need to leave your house immediately. Of course, the damaged area will remain exposed and may invite animals and the homeless looking for shelter. 
To avoid finding others calling your stuff their own, you can get the place boarded up. The boards help keep others away from your property and often provide an added layer of protection to your property against weather conditions until you weather the storm. 
Once things return to normal, you can call restoration companies to help you with the damage. 
Mitigating Impact
Whether you are waiting for water damage restoration, fire and smoke damage, or mold mitigation, until the weather conditions turn optimal or other restrictions get lifted, you will need to avoid damage to your structure any way you can. 
The best way to do that is via wood panels dedicated to helping you repel the damage. 
Saving Costs
Yes, emergency board-up services can help you save costs. Whether you buy the wood or rent it out, the boarded house will be able to hold its own against external elements until you can pay or until your insurance claim gets resolved.
While 911 Restoration of Southern Oregon has a good reputation with insurance providers and we do all we can to speed up the claim disbursement process, others may not be able to get you such favorable circumstances. 
Other than keeping your property fortified, there are other ways that emergency board-up services can help you as well. These include, but aren't limited to:
Helping you keep your insurance. When you call your insurance company, they will dispatch an insurance adjuster your way to determine the damage, get quotes, and determine what the appropriate settlement would be. They ask that you don't do anything to the damaged site to be analyzed properly. By boarding up the place, you can protect it for the insurance agent without leaving your house or commercial building exposed. 
Prevent Vandalism and Associated Costs
Vandals look for abandoned properties to "loot and tag it." Your building may be exposed to the public if there is a huge hole in the wall or an opening where your window used to be. By boarding up, you can protect your property from thieves, squatters, and other criminals.
No one can control what your house may be exposed to natural threats, man-made threats, and animals. However, board-up services are the next best thing to do when disaster strikes your property. The goal is to protect and wait until the home, or commercial property has been restored.
911 Restoration is here to help you keep your property safe if you need to wait for us or even while we work. Not only do we help you recover from damage, but our staff is also dedicated to protecting you from further damage during the clean-up and recovery process. We understand how stressful your situation is and what you need to get back on track. 
Call us today to learn more about our board-up services and our different packages geared to relieving you from your already-stressful conundrums.