How Can Warehouse Fire and Smoke Damage Impact Your Inventory & Business?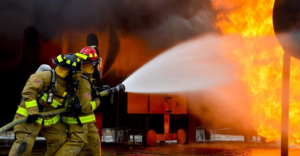 Warehouse fire and smoke damage often create chaos and panic for the supply and chain department. Aside from severe property damage and inventory loss from the fire, you might experience other forms of disruptions. Therefore, preparing for the unexpected by developing contingency and risk management strategies can help you overcome disastrous events.
Our trusted commercial restoration company in Southern Oregon shares some professional insight into such situations. We have rounded up the risks, mitigation services, and prevention practices to direct you towards safe and low-risk warehouse management practices.
Have a look: 
The Impact of Warehouse Fire and Smoke Damage 
Inadequate water supplies, non-existent extinguishing systems, faulty smoke alarms, and human errors are common causes of warehouse fire and smoke damage. Most companies fail to prevent onsite fire incidents due to a lack of fire safety awareness and negligence. 
Being aware of the risks makes it easier for you to prepare for such emergencies. 
Here's how fire incidents can affect your business operation: 
Fire and Smoke Damage on Property
Whether you're dealing with a small spark or widespread fire, you will face some type of property damage. Superficial damage might include smoke and soot particles clinging onto the walls, floors, and inventory. 
Additionally, prolonged exposure to heat and flames might lead to structural deterioration. You will notice this through broken, cracked, and burned furniture and floorings. These items can either be repaired or restored, depending on the severity of the damage. 
In some cases, fire incidents can cause extensive water damage because of continuous extinguishing activities. Consequently, this might cause massive moisture intrusion, wood rot, mold growth in the affected structural and storage components. You might have to relocate your warehouse if you need to reconstruct the whole building. 
Hiring a specialized commercial restoration company in South Oregon can effectively address these underlying structural damages. Otherwise, you will experience recurring warehouse maintenance issues after the fire. 
Costly Inventory Loss 
Warehouse fire and smoke damage can impact supply and chain operations drastically. Direct exposure to heat and flame can destroy products and warehouse systems in a matter of minutes. Even semi-burned stocks can get ruined due to soot and water damage. Due to this, companies can lose a major chunk of their inventory. 
The gap in supplies results in delayed deliveries, an increase in demand, and client complaints. It disrupts operations and creates financial issues as you spend your funds on restoration and recovery. Additionally, you might have to install new machinery and hire more people to accelerate production and shipping.  
What's More? 
Onsite staff can sustain fire injuries if proper evacuation plans and exit strategies aren't planned. These injuries can include burns, broken bones, and breathing problems because of excessive smoke inhalation, to trauma. Moreover, ineffective warehouse fire and smoke damage restoration can create health hazards (e.g., mold, seepage, and soot).
Therefore, you need to hire a specialized commercial restoration company in Southern Oregon to maximize your warehouse security, inventory, and workforce safety. 
Prevention Plan: Can You Avoid Warehouse Fires?
Businesses can optimize risk management practices to limit underlying issues associated with warehouse fire and smoke damage. Effective emergency response and evacuation plans can prevent employee injuries and extensive inventory loss. 
Here are a few things you can do to mitigate such incidents: 
Install and maintain fire detection systems (like smoke alarms) to ensure that the onsite workforce receives a fire warning immediately 

Place fire extinguishers and built-in sprinklers throughout the premises to put out fires (or suppress them) as quickly as possible 

Conduct evacuation drills and mitigation training to promote fire safety awareness 

Create business continuity plans and procedures for efficient disaster recovery 

Have a backup warehouse to store new inventory if

smoke and fire damage restoration

limits access to your primary storage space 

Rearrange inventory to keep flammable storage materials away from the remaining stock 

Sign relevant warehouse insurance policies to receive reasonable coverage for your loss 
Besides this, you can schedule routine building inspections to ensure that warehouses meet building and fire code requirements. Modifying stock placement, structural design, and improving maintenance can significantly decrease fire risks. 
How Can 911 Restoration of Southern Oregon Help?
Our company takes great pride in developing effective commercial restoration plans for warehouses and storage facilities. 
The benefits of consulting our team include: 
24/7 disaster recovery services to assist in

smoke and fire damage restoration

 

A cooperative customer support team for seamless coordination 

Personalized mitigation plans to address individual needs and difficulties 

Water damage restoration services as a counteractive strategy against firefighting procedures 

Mold remediation

to reduce further structural issues and health risks 

Insurance support to facilitate your efforts to file insurance claims for

warehouse fire and smoke damage
Lastly, you can trust our IICRC-trained technicians to accurately diagnose and respond to the situation. As a result, you deal with minimum delays and better building standards. 
Parting Words 
In conclusion, you can't evade warehouse fire and smoke damage completely. Yet, you can take steps to mitigate property damage, inventory loss, and potential health hazards. Consulting a professional team for immediate repairs and restoration can prove beneficial/ 
That's because our specialists will stay by your side from start to finish, keeping a close eye on potential structural issues that might emerge during the recovery stage. Their due diligence can minimize costly maintenance fees and return your warehouse to its pre-loss condition.
Contact 911 Restoration of Southern Oregon for further details.